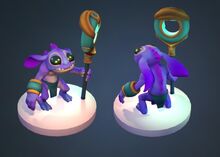 Wildlings are small magic-using monsters and a natural inhabitant of the planet. Cute, and good natured, the monster is quite insignificant and has low health. Wildlings will spawn next to the lane, making it easily accessible but farming this creature has almost no effect on the team's progress. If Stitch spawns with other monsters, its active ability will assist them in surviving longer.
Wildlings have single, basic attacks. However it also has the ability to, over the course of a few seconds, restore a portion of health to all monsters in the spawn.
Upon defeating this monster, your team will gain XP.
Ad blocker interference detected!
Wikia is a free-to-use site that makes money from advertising. We have a modified experience for viewers using ad blockers

Wikia is not accessible if you've made further modifications. Remove the custom ad blocker rule(s) and the page will load as expected.